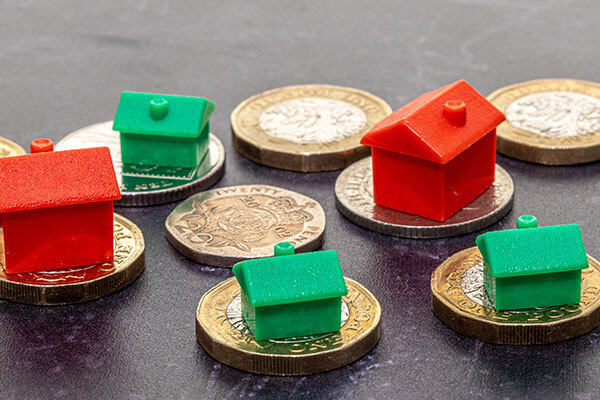 Debt:
£220m – CMBS
£580m – RCF from syndicate of four lenders
Having delivered more than 2,400 homes, Sage Housing, which received backing from Blackstone in late 2017, is expected to deliver around 3,500 homes next year as it works towards a stated goal of delivering at least 20,000 homes by the end of 2022. All of these homes will be at affordable or social rents, or for shared ownership.
As chief financial officer John Goodey puts it, this rate of growth puts Sage in an "entirely different league" in terms of the number of affordable homes it is delivering annually, even compared with the largest of England's not-for-profit providers.
"We've become a scale provider very quickly compared to the normal genesis of registered providers. Some of that is due to the genuine commitment that Blackstone has made to build this business in the right way, [and] provide stable capital, and expertise."
Sage, which also counts Regis as minority shareholder, is close to having 12,500 units under contract to be built across its pipeline and existing units, Mr Goodey reveals.
"We have gone from a start-up to a £2bn commitment to social housing in England, in a three-year period."
This appetite for cash saw the provider list a £220m CMBS on the Irish Stock Exchange in October – a type of transaction not seen in UK social housing before. The securitisation also carries a 'social' label, which was accredited by second-party opinion provider Sustainalytics.
Managed and arranged by Deutsche Bank, the securitisation from issuer 'Sage AR Funding No1 plc' featured a portfolio of 1,609 properties, across seven tranches of floating-rate senior notes. These ranged from £89.1m of 'class A' notes at a coupon of SONIA plus 1.25 per cent, through to £11.1m of subordinated 'class R' notes, at a coupon of nine per cent. The notes have a loan term of five years, but Sage has an option to pay costs and end the agreement at an earlier stage.
Mr Goodey says that Sage's approach of securitising an individual portfolio of properties – as opposed to issuing a bond at the group level, as commonly seen in the non-profit sector – made sense for the current stage in its journey.
"We have high levels of security we can offer in these individual portfolios that are completed, but Sage as an entity is relatively early stage, compared to a G15 provider. Over time what we do may well change because we are continuing to grow and mature."
The approach may also have brought new investors into the sector, Mr Goodey believes, with the specific structure of the notes making them applicable to "a certain subset of the credit investor spectrum".
Gadi Jay, managing director – real estate at Blackstone in London, tells Social Housing that the "uniqueness of the deal required a fair amount of investor education", but that the resulting interest was unprecedented.
"We had about 100 people participate in our global investor call – which is maybe three times more than you would expect to see on a 'normal' commercial mortgage-backed security. The investor demand from the get-go was fantastic."
Significantly, the 1,609 properties used to secure the notes solely comprised rented properties – reflecting a wider strategy at Sage to delineate between its rented and shared ownership properties.
Mr Goodey explains: "We figured out early on that going to potential credit investors with the two stories in one package was going to be a big ask of them to understand so much in a very short period of time, because [the tenures] are different and they have different traits. We decided with Blackstone pretty much from the beginning that we would have essentially the bifurcation set up for long-term financing and for long-term ownership in our RPs."
Sage's parent RP predates Blackstone's involvement in the company, but in December 2019 two further providers were registered with the RSH: Sage Shared Ownership and Sage Rented, with the latter formally named in the CMBS as the parent of the borrower.
As more units are acquired, Sage is likely to put together and securitise further portfolios of properties – including of its shared ownership assets, Mr Goodey says.
He adds that with 3,500 homes set to be delivered next year, that would enable "two bonds' worth" of issuance volume, based on the recent offering.
Adding to its funding mix, Sage picked up investment partner status with Homes England at the end of 2019. According to Mr Goodey, this enables the provider, which typically acquires its properties through Section 106, to "talk to developers about true additionality in scale".
Meanwhile, the £220m CMBS complements an existing £580m revolving credit facility (RCF) provided by a syndicate of four lenders first agreed in January 2019 (at £380m) and extended in 2020.
Mr Jay explains: "That effectively is an acquisition facility. It allows us to acquire units in various stages of completion, is supported by a number of large banks and institutional investors and is relatively flexible and allows us to invest and grow the business where we see good opportunity.
"One of the things we value greatly is flexibility and stability, so we want to ensure that we are able to invest where it makes sense, and try not to be governed by limitations of debt or other kinds of considerations."
This is reflected in the absence of any specific gearing ratio target for Sage, Mr Jay adds.
"We want to ensure that the leverage that the business is taking on is sustainable. So it's finding the right balance, and it depends really on the ability of the assets to support and the ability of the business to support the financing. We will continually evaluate what the optimal leverage is."
The extent of Blackstone's own equity investment in Sage to date is undisclosed, but it runs into the "hundreds of millions of pounds", Mr Jay acknowledges – and it continues to grow.
Asked whether there is a fixed end date to its investment in Sage, he says: "The funds that have invested in Sage do look to return capital to their investors, so there will come a time where they would look to exit the investment as it were, but there is no hard deadline to that. And Sage homes will remain affordable in perpetuity.
"For now our priority remains as it was at the outset, to bring incremental capital to the affordable housing market and capacity to a sector where traditional registered providers can struggle to keep up with demand."