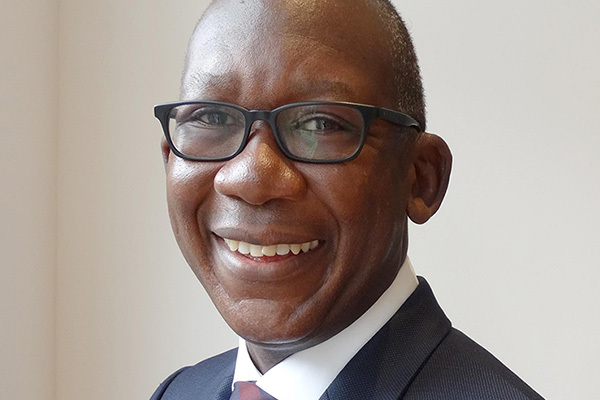 "Organisations didn't worry about exactly who had the pay cheque and who was responsible for funding. We did risk assessments in real time and organisations didn't say, 'no', they said: 'How can we?' It was an incredibly positive time."
For a man whose 30-year career in housing has included stints overseeing billions of pounds of investment as chief executive of the Housing Corporation (now Homes England) and advising boards on good governance through Altair – the consultancy he helped found in 2011 – such levity about who foots the bill might seem surprising.
But Steve Douglas CBE, who officially became chief executive of specialist homelessness charity St Mungo's in July, is speaking about the period of feverish activity in the early days of the COVID-19 pandemic, which saw the rule book thrown out as agencies rushed to get 'Everyone In'.
"What we saw was local authorities, housing providers, homelessness agencies, public health – all working together. It was an emergency response and everybody very significantly collaborated," he says.
"Alongside Crisis and Shelter, St Mungo's provides the most active responses to the issues of homelessness"
For Mr Douglas, the chance to head up the charity came at just the right time. Having chosen to step down as chief executive of Altair's parent company Aquila in April, as the group cut costs in response to the pandemic, the new position appealed to a continuing passion for housing and regeneration – and, above all, the people it serves.
"I've been particularly concerned around support to residents and clients – and St Mungo's is arguably one of the three most significant homelessness charities in the country. Alongside Crisis and Shelter, St Mungo's provides the most active responses to the issues of homelessness, and the opportunity came up for me to lead the organisation and I was delighted with it."
As with many 2020 recruits, Zoom and Teams have played their part in Mr Douglas' arrival at the organisation. Now, via one medium or other, he has met around 1,200 of the organisation's 1,500 staff, he says. "And I am inspired by the commitment that there is from staff and colleagues and volunteers who every day make a difference."
That drive has certainly been drawn upon during the pandemic. Earlier this year, St Mungo's teams were working to manage 29 of the hotels repurposed nationally under the government's 'Everyone In' policy and the organisation is still managing around 12 of these.
But Mr Douglas cautions that where different stakeholders and the country as a whole came together to find solutions during that first wave, there is a danger that momentum is slipping away.
"We've seen it in society with this next wave. You go out and it doesn't quite feel like business as usual, but it doesn't feel nearly as urgent as it felt in March and April. And the lack of that urgency is starting to dissipate some of that really good joint working that we saw. So organisations – quite understandably – are saying: 'Let's go back and look at our budget and what can we afford,' and 'How do we enable delivery in a procurement-appropriate way?'"
"There is a danger that bureaucracy once again gets in the way of collaboration and that we do slip back to some of our silos"
He adds: "There is a danger that bureaucracy once again gets in the way of collaboration and that we do slip back to some of our silos."
Pandemic collaboration aside, the trend for housing associations in the mainstream of the sector over the course of several years has been to move away from direct provision of homelessness accommodation, rather than towards it.
Asked what he makes of this, Mr Douglas says: "I can quite understand that many housing associations have moved away from direct provision, because it's not easy. For St Mungo's, it's what we do – it is essential activity and we know it makes a fundamental difference to the life chances of many people."
But Mr Douglas says there are still "really positive things" traditional housing associations can do, from providing move-on accommodation to working with organisations such as St Mungo's to provide homes while the specialist provider offers the wraparound support. This is the model seen in Housing First, for which St Mungo's is one of the UK's largest providers. Mr Douglas also points to Homes for Cathy, the national alliance of housing associations working together to end homelessness.
As for the organisation's own place within social housing, St Mungo's is something of a hybrid: it combines income from its housing provision, including for local authorities' statutory homelessness services, with the fundraising income (£12.55m in 2019/20) and contributions from volunteers that see it brush shoulders with charities. As a result, it is regulated by four bodies: the Regulator of Social Housing (RSH), the Charities Commission, the Care Quality Commission and Fundraising Regulator.
'Low margin' environment
In April 2019, the RSH upgraded St Mungo's for governance to G1/V2, recognising several governance improvements, including to its risk management and internal control assurance framework. But the regulator emphasised that risks remain that need to be managed, particularly in relation to the "low margin" nature of its work and business plan, which reduces its ability to absorb adverse shocks.
To what extent can this be helped?
"We think the services we provide are vital, but we are working with very hard-pressed local authorities that want to fund services but actually haven't really got sufficient funding to do so because of cuts to their own budgets over the years," Mr Douglas says.
"So we need to balance donations to fund the non-statutory services that make a significant difference to our clients, and then the income that we get from managing our properties. That's the hybrid that we have, and as a result, yes, it is a low margin business.
"We are very careful about how we have to manage our resources – which is no different from any other housing association"
"We are agile as an organisation, we are strong financially in terms of our size and scale, and that holds us in very good stead. But we are very careful about how we have to manage our resources – which is no different from any other housing association."
Accounts for the 2019/20 financial year show annual turnover increased to £106.87m from £94.55m in 2018/19, with a surplus of £0.23m compared with a deficit of £1.45m the previous year. The accounts refer to "notable contract and growth successes" during the year, including a significant £4.4m four-year contract from the London Borough of Hounslow to support around 100 people in supported accommodation.
The accounts also note that St Mungo's continues to have "higher than average" costs per unit compared to other RPs, due to the specialist nature of its work, while it has "little debt" compared to other HAs.
However, it does lease several of its properties – as at March 2020, the organisation owned, leased or managed 1,102 properties, of which most (1,084) were residential. St Mungo's is the freeholder of 50 of these properties and has a long leasehold on 39, with the remaining properties either on a short lease or under a management agreement with another housing provider.
Leased properties include those delivered through its partnership with impact investor Resonance on its Real Lettings Property funds, bringing approximately 800 units of much-needed move-on accommodation into play since 2013.