News
14 Dec 2020
by Gavriel Hollander
Two housing associations (HAs) have been boosted by upgrades to their governance rating – including one that has returned to compliance – in the latest set of regulatory judgements from the Regulator of Social Housing (RSH).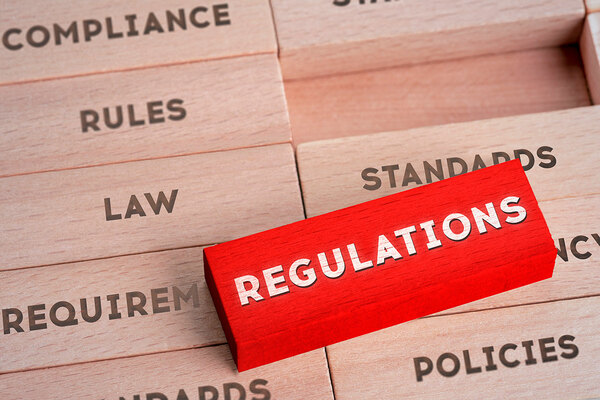 REGULATIONS 1200px GETTY MIN.jpg
Sharelines
---
Regulatory round-up: two HAs given governance upgrades by @RSH_England #UKhousing #SocialHousingFinance
---
Lincolnshire provider returned to compliance in latest round of @RSH_England judgements #UKhousing #SocialHousingFinance
---
Latest RJs see @ongoUK and @gentoogroup given governance upgrades @RSH_England #UKhousing #SocialHousingFinance
---
Ongo Homes has become compliant for the first time in almost two years after receiving an upgrade from G3 to G2, while Sunderland's Gentoo returned to a G1 rating for governance a little over a year after it returned to compliance.
Lincolnshire-based Ongo was downgraded to the non-compliant G3 rating by the regulator in February 2019 after its unregistered parent company Ongo Partnership approved a discretionary pension payment to a former executive.
At the time, the regulator said that the 9,800-home association had failed to be "appropriately sighted on decisions taken by its unregistered parent and as a result did not ensure it was in a position to prevent key risks from materialising". It also cited weaknesses in board oversight and risk management.
Later that year the RSH issued a warning to HAs with unregistered parents, suggesting that the structure could lead to downgrades if it created extra undue risk among registered subsidiaries.
In upgrading Ongo to G2 in its 25 November judgement the regulator said that the association has been working since February 2019 on strengthening its governance arrangements. This included changes to the composition of its board. It has also implemented a new risk management framework and worked with its parent company on a new corporate strategy.
In its in-depth assessment (IDA), the regulator said that the association "needs to ensure that the wider organisational arrangements supporting delivery of the strategy will enable Ongo Homes, as the registered provider, to utilise its capacity effectively.
Ongo also retained its V1 rating for financial viability as part of the regulator's IDA.
Jo Sugden, director of corporate and compliance at Ongo said the upgrade came "after months of hard work including a full review of our governance arrangements, a new group common board structure being implemented and the recruit`ment of a number of new board members".
She added: "We remain at the highest rating of V1 for financial viability, which reflects the financial strength of the organisation. Our focus now is to continue to provide quality homes and excellent services to our tenants and customers, and we are confident that we will return to the highest G1 rating for governance in due course."
---
---
Gentoo, meanwhile, was upgraded from G2 to G1 for governance while retaining its V2 rating for viability. This latest rating comes after the RSH upgraded the 30,000-home association from G3 to G2 in September 2019.
In its latest judgement on Gentoo, the regulator said: "Recent IDA engagement has provided assurance that Gentoo has continued to make positive progress in developing and improving its governance. It has refreshed and simplified its approach to strategic planning and agreed a strategy that ensures a continued emphasis on its core functions as a social housing landlord. The strategy focuses on increased investment in current stock and an expanded programme of affordable home development."
However, it retained its V2 rating for viability after the regulator judged that the association "continues to have material financial risks it needs to manage".
Gentoo was originally downgraded in 2017 following a governance breach, in relation to past severance payments made as part of its executive remuneration policy.
In a message to staff and stakeholders at Gentoo, chief executive Nigel Wilson wrote: "Gentoo's return to G1 compliance is a monumental achievement and testament to the three-year journey the business has been on since it was downgraded to G3 non-compliant in 2017. The downgrade received a significant amount of local and national media coverage, embarrassing the organisation, its colleagues and the housing sector as a whole, damaging reputation and credibility in the process.
"However, we have come a long way since then and I am so pleased with the news we have received today. We have refocused on our core social purpose of serving our tenants in Sunderland and have made the necessary changes to strengthen the governance and management of the organisation.
"The lessons learnt from past mistakes and poor leadership have been taken on board and everyone is now pleased to assign these to history. It is important to stress that the social purpose and values of Gentoo are now clear and fully embedded within the organisation's culture."
The RSH has also issued strapline regulatory judgements, confirming the ratings of 53 housing associations over the past two weeks. All but two of the associations held a G1 rating for governance, with the only G2 ratings being for Connexus Housing and Progress Housing Group.
The judgements were issued in two batches, on 2 and 9 December (see tables below).
Regulatory judgements on 2 December
| | | |
| --- | --- | --- |
| Provider | Governance rating | Viability rating |
| A2Dominion | G1 | V2 |
| CHP | G1 | V1 |
| Christian Action HA | G1 | V2 |
| Clarion | G1 | V1 |
| Coastline | G1 | V1 |
| Curo | G1 | V1 |
| Futures | G1 | V1 |
| Grand Union | G1 | V1 |
| Look Ahead | G1 | V1 |
| Midland Heart | G1 | V1 |
| North Star | G1 | V1 |
| Nottingham Community HA | G1 | V1 |
| Optivo | G1 | V1 |
| Paradigm | G1 | V1 |
| South Yorkshire HA | G1 | V2 |
| Trent and Dove | G1 | V1 |
| Tuntum | G1 | V2 |
| Vale of Aylesbury Housing Trust | G1 | V1 |
| WDH | G1 | V1 |
Regulatory judgements on 9 December
| | | |
| --- | --- | --- |
| Provider | Governance rating | Viability rating |
| Acis | G1 | V2 |
| Arawak Walton | G1 | V1 |
| Arches Housing | G1 | V1 |
| Bernicia | G1 | V1 |
| Bolton at Home | G1 | V2 |
| Bournville Village Trust | G1 | V1 |
| Byker Community Trust | G1 | V2 |
| Cobalt | G1 | V1 |
| Connect | G1 | V1 |
| Connexus | G2 | V2 |
| Croydon Churches | G1 | V1 |
| Empowering People Inspiring Communities | G1 | V1 |
| Golden Lane | G1 | V1 |
| Havebury Housing Partnership | G1 | V1 |
| Housing Solutions | G1 | V1 |
| Karbon | G1 | V1 |
| Leeds Federated HA | G1 | V1 |
| Manningham | G1 | V1 |
| Network Homes | G1 | V2 |
| Newlon Housing Trust | G1 | V2 |
| Ocean Housing | G1 | V2 |
| One Manchester | G1 | V1 |
| One Vision Housing | G1 | V2 |
| PA Housing | G1 | V1 |
| Places for People | G1 | V1 |
| Progress Housing Group | G2 | V1 |
| Riverside | G1 | V1 |
| Rochdale Boroughwide Housing | G1 | V2 |
| Saffron Housing Trust | G1 | V1 |
| Salix Homes | G1 | V2 |
| Selwood Housing Society | G1 | V1 |
| Tower Hamlets Community Housing | G1 | V2 |
| Two Rivers Housing | G1 | V1 |
| Weaver Vale Housing Trust | G1 | V1 |