News
11 May 2021
by James Wilmore
The government is to press ahead with a move to shake up the planning system and introduce a building safety regulator.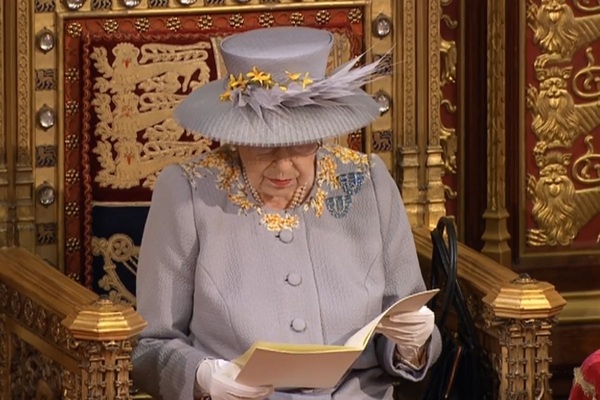 The Queen made several housing announcements in her speech today (picture: Parliament TV)
In today's Queen's Speech, the Queen said that a bill would be introduced to "modernise the planning system to ensure more homes can be built".
She also said that measures to "end the practice of ground rents for new leasehold properties" would be brought forward.
The government first published its plans to overhaul the planning system last August with the publication of an 83-page white paper.
---
---
However, the plans have proved controversial. The social housing sector has raised concerns about the abolition of Section 106 agreements.
And Conservative MPs attacked an algorithm used to calculate housing need across the country, leading to a U-turn by the government on the formula.
Ministers are also promising a new leaseholder reform (ground rents) bill that will "ensure leaseholders of new, long residential leases cannot be charged a financial ground rent for no tangible service".
It should mean that leaseholders of property will be able to extend their leases for up to 990 years with no ground rent.
On building safety, the Queen said that ministers will "establish in law a new building safety regulator to ensure the tragedies of the past are never repeated", in an apparent reference to the Grenfell Tower fire, which killed 72 people in June 2017.
The government published a draft Building Safety Bill last July incorporating recommendations from Dame Judith Hackitt in the wake of the Grenfell tragedy. In February, England's first chief inspector of buildings was appointed to lead the Health and Safety Executive's new building safety regulator.
A plan to enhance the rights' of renters, including a new lifetime tenancy deposit model, was also promised.
And a document published alongside the Queen's Speech said the government will "continue to deliver on is proposals" unveiled in last year's Social Housing White Paper.
The plans include a new consumer regulatory function to "hold landlords to account". The document today said: "We will also continue to develop reform of social housing regulations and look to legislate as soon as practicable." However it is unclear currently how that legislation will be enacted.
In total today, the Queen announced plans for 25 bills, including two draft ones.
However, firm plans to legislate on social care still failed to emerge. Instead the Queen said that "proposals will be brought forward".
In a speech written for her by the government, the Queen said: "My government's priority is to deliver a national recovery from the pandemic that makes the United Kingdom stronger, healthier and more prosperous than before.
"To achieve this, my government will level up opportunities across all parts of the United Kingdom, supporting jobs, businesses and economic growth and addressing the impact of the pandemic on public services."