News
08 Sep 2021
by James Wilmore
The finance boss of specialist private developer Pocket Living has said a new £21m funding package for an east London scheme will provide a "blueprint" as it looks to expand outside of the capital.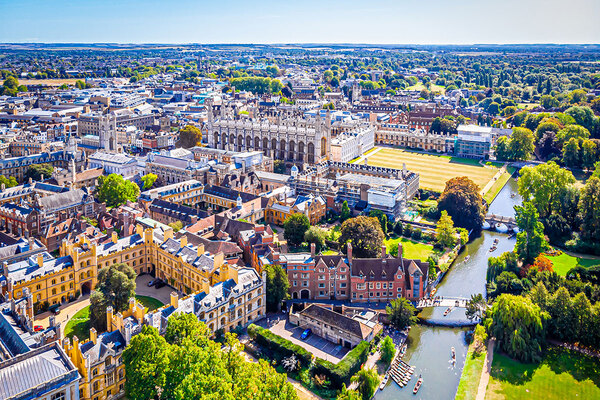 Pocket's main focus would be cities with "similar affordability challenges" to London, such as Cambridge (picture: Getty)
The high-profile developer has secured a £16.5m loan from Barclays and a £4.3m "equity injection" from Housing Growth Partnership (HGP), a social impact investor backed by Lloyds Bank and Homes England, to finance the 90-home scheme in Walthamstow.
Pocket Living, which specialises in selling 'compact' flats to first-time buyers at a 20 per cent discount to market rates, previously received a £25m loan from the Greater London Authority (GLA) in 2017.
Paul Rickard, chief financial officer at Pocket Living, told Social Housing: "We fully deployed our initial GLA funding and equity. Having reached that point we wanted to look at ways we could deliver more affordable homes. We met with the HGP, who exist to help SMEs grow through equity, so it was a perfect alignment."
He added: "We're now looking to diversify funding sources so that we can deliver more [schemes]."
---
---
In its last financial year to the end of December 2020, Pocket Living reported a pre-tax loss of £6.3m on a reduced turnover of £56.2m.
However Mr Rickard, who joined the developer in 2019 from G15 landlord One Housing, shrugged off the losses. "The loss is purely where we are in the development cycle. It takes three to four years to deliver each scheme and we've got 19 schemes in the hopper," he said.
Writing for Social Housing last year, Pocket Living's founder Marc Vlessing acknowledged that "delays in planning hit Pocket hard and can be the difference between being viable or not".
The 16 year-old developer is looking to expand outside of London, with Mr Rickard describing the new funding deal as a "blueprint".
He said that Pocket's main focus would be cities with "similar affordability challenges" to London, such as Cambridge, Oxford and Brighton.
Despite the pandemic, Mr Rickard said that demand for its properties remain high among its core target of first-time buyers.
"During the pandemic a huge amount of them were trapped in house shares, or at home with their mum and dad," he said. "And bear in mind that 40 per cent of our customers are key workers as well."
The group has also diversified into the fast-growing build-to-rent sector, with a 450-unit scheme planned at Old Oak Common that will include bigger homes than the standard Pocket Living product.
However, Mr Rickard said that despite the diversification, small "pocket" homes would "remain at the heart of everything we do".
Pocket Living is due to deliver its 1,000th home next month since its inception, and has a pipeline of around 1,000, which includes the build-to-rent development.
The company also previously raised the prospect of setting up a for-profit registered provider.
Asked if this was still being planned, Mr Rickard said: "We maintain a watching brief on it. We recognise the benefits that could bring. But at the moment, we're a small organisation, we've got a full pipeline of 1,000 homes, and we need to focus on delivering those right now."