News
21 Oct 2021
by James Twomey
The National Housing Federation (NHF) has warned that the total sum of decarbonising housing association stock could rise to at least £36bn to meet the government's net zero 2050 target.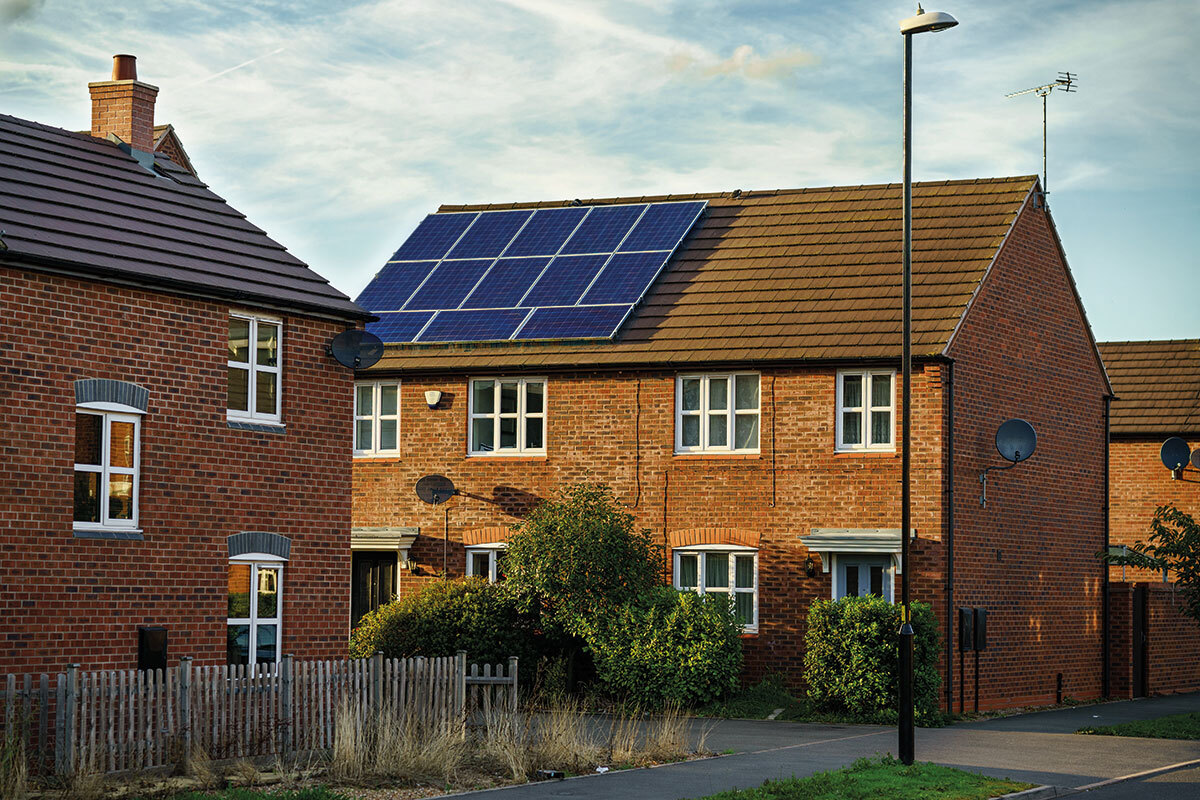 Picture: Getty
The figures came as the government this week unveiled its Heat and Buildings Strategy, including an allocation of £800m for the Social Housing Decarbonisation Fund for 2022 to 2025, among other clean energy incentives amounting to £3.9bn.
Research by Savills and the NHF published on Tuesday (19 October) showed that a "base case" for achieving an energy performance certificate (EPC) rating of C for all 2.7 million housing association homes by 2030, and then replacing gas heating with heat pumps by 2050, would cost just under £36bn. The NHF said housing associations are already planning to invest £70bn in future-proofing their homes.
The research used modelling based on the global accounts published by the Regulator of Social Housing and made the case that housing associations will not be able to shoulder the financial burden of decarbonising their housing stock alone.
The report recommended a combination of secure government funding alongside new investment to counter the costs of decarbonisation, as well as a raft of measures such as reductions in VAT on energy-efficiency measures, government guarantees on borrowings for retrofits and a renegotiation of sector standard interest cover covenants with lenders.
The report predicted that, at a base level, decarbonising the entire housing association stock would cost £35.82bn (see table below).
| | |
| --- | --- |
| Works | Cost |
| Upgrade homes built since 2000 | £5,783,360,000 |
| Ensure flats meet EPC C prior to 2030 but will be held post 2050 | £9,157,821,542 |
| Upgrade flats already at EPC C | £2,346,080,000 |
| Ensure houses meet EPC C prior to 2030 but will be held post 2050 | £15,424,412,054 |
| Upgrade houses already at EPC C | £3,109,920,000 |
| Sum | £35,821,593,596 |
---
---
Kate Henderson, chief executive of the NHF, said: "Our members own and manage almost three million homes, and with this they are uniquely placed to help the country reach this critical net zero target by retrofitting homes at scale and pace.
"But we can't do it alone. While housing associations are already planning to invest £70bn in future-proofing their homes, our new estimates demonstrate that full decarbonisation by 2050 will cost an additional £36bn. For now, the government could help us make significant progress by delivering on its manifesto pledge and bringing forward the £3.8bn Social Housing Decarbonisation Fund in the upcoming Spending Review.
"It's not all about investment, either. Housing associations need direction from government on everything from what fabric standards will be necessary to support clean heat, how we can accurately measure decarbonisation and, crucially, reform of electricity pricing to ensure new heating systems don't lead to higher bills. Without policy change to bring down the costs of electricity, we would need a much higher standard of insulation to keep fuel bills affordable."
In its 2019 election manifesto, the Conservative Party promised a Social Housing Decarbonisation Fund worth £3.8bn over 10 years. In August, social housing landlords were invited to bid for a share of £160m under the first wave of the fund's roll-out, which is to be awarded in January 2022 for projects due to complete by January 2023. This followed an earlier £62m 'demonstrator' phase.
The Department for Business, Energy and Industrial Strategy (BEIS) confirmed to Social Housing that the £800m covering 2022 to 2025 is "new and additional" on top of the allocation under the first wave.
When asked by Social Housing how the balance of the promised £3.8bn Social Housing Decarbonisation Fund would be allocated over the remaining five years, a BEIS spokesperson said it would be a matter for future Spending Reviews.
Savills' report said: "Where public sector investment has been made, the primary criticism is that the timescales for bidding and installation have been too short, and the efficiency expectations for developing technology have been too high."
The new Heat and Buildings Strategy unveiled this week included new grants of £5,000 that will be available from April 2022 to encourage homeowners to install more efficient, low-carbon heating systems, such as heat pumps, through a £450m scheme.
Several figures from across the housing and environmental sector have said the scheme was welcome but did not go far enough.
Caroline Lucas, former leader of the Green Party, said on Twitter: "A heat pump in a poorly insulated home just won't work. It's like buying a teapot with cracks in it: leaky, inefficient and a waste of money. We need joined-up action on climate change and a comprehensive, well-funded home insulation scheme – not token gestures."
The report from Savills also said that housing experts and academics who took part in the research believed a 'fabric-first' approach, which focuses on the building material's efficiency before installing further equipment, would prove most effective.
Savills added that improving the fabric of homes would be crucial to helping tenants avoid fuel poverty, unless the cost of electricity is significantly reduced and heat pumps become much more efficient.
John Kiely, director of housing and public sector at Savills, said: "These costs are an early estimate and the range we have provided highlights the uncertainties we face between now and 2050. The £36bn cost of the base scenario relies on technology improvements and policy changes to avoid increasing fuel poverty.
"If these improvements don't materialise, then we would expect costs could be much higher. The challenge between now and 2050 will be getting the right balance between appropriate measures, cost benefits and investing in the right stock."
The report also drew on examples from European countries where the social housing sector has provided a testing ground for innovation and has boosted momentum for wholesale decarbonisation across broader housing.
These examples had the backing of significant government investment by providing long-term loans, an approach that is supported by government-backed organisation the Green Finance Institute and the London School of Economics.
The BEIS spokesperson said: "We are committed to ensuring that funding is in place to enable us to meet our target to decarbonise social housing by 2050 and are working closely with social housing landlords to ensure we invest the Social Housing Decarbonisation Fund in the most effective and most cost-efficient way."