News
18 Mar 2021
by James Wilmore
The majority of housing associations have so far failed to factor in the cost of full decarbonisation of their stock and some could face a similar spend to dealing with fire safety, according to sector experts.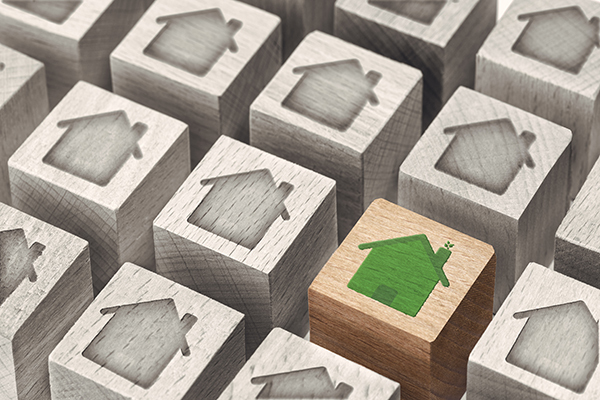 Picture: Getty
During the virtual Housing Finance Conference today, speakers revealed how the sector had yet to get to grips with the investment needed as the UK aims to meet net zero by 2050.
"Most of the housing associations I've met over the last six months, we've been asking about decarbonisation and is that in scope yet. I would say the vast majority – 95 per cent – said 'no'," said Fiona Dickinson, investment director at Aberdeen Standard Investments.
She said the focus among associations appeared to be getting homes to an Energy Performance Certificate (EPC) 'C' rating by 2030.
As part of the government's Clean Growth Strategy, ministers set a target that all social homes must have an EPC rating of 'C' by 2030. The National Housing Federation (NHF) has previously warned that the target would be a "challenge" and government support would be needed.
Research by Social Housing's sister title, Inside Housing, last year estimated that the cost of retrofitting all social homes in the UK to zero carbon could cost £100bn.
"Most senior management teams are expecting costs to come down and grant funding to be available from the government as and when the government gets it head around the idea," Ms Dickinson told the conference, which was hosted by the NHF. "Hopefully it's pushed up on the back of government panic as they realise that time is running out."
---
---
In last year's summer statement, chancellor Rishi Sunak announced a £50bn pilot fund for social housing retrofit. Following the spending review at the end of last year, the government set out that £60m had been earmarked for the next stage of the project. And last month the government launched research to understand the needs of social landlords around decarbonisation.
But Ms Dickinson added: "For a lot of associations [decarbonisation] will be a big number and could almost be a similar number in what we're seeing in fire safety spend at the moment. There's a lot of uncertainty around what happens post-2030."
Will Perry, director of strategy at the Regulator of Social Housing, also said the body had yet to see landlords factoring in the costs. He referred to the 2020 financial forecast returns submitted in September, which he said showed an "increased trend in major repairs expenditure".
"At the moment from looking at the business plans, this all appears to be safety related and investments in existing stock just to maintain it to current standards. We're not seeing decarbonisation and energy efficiency expenditure coming through in these forecasts yet."
He added: "I think that's probably because folk are looking at developing their understanding of their stock and figuring out what the future requirements are going to be."
Felix Ejgel, a senior director at ratings agency Standard & Poor's, said he assumes that providers would not borrow more for decarbonisation but instead there would be a "rebalancing of investments".
However, he said if there was an increase in the debt burden it could lead to "downgrades across the board".
Mr Perry warned that associations could be forced to rethink their development plans because of the extra costs they face.
"Safety spend has to be delivered and the decarbonisation agenda isn't going away. That would suggest that the thing that is going to end up giving is probably going to be development to sustain the key credit metrics, interest cover and gearing and so on," he said.
Piers Williamson, chief executive at The Housing Finance Corporation, said that retrofitting stock could almost "completely crowd out" development. But he added: "Is that going to happen? I'm not sure that's the case."
At a later session, Jonathan Clarke, managing director of Centrus, said that if associations did borrow money to fund decarbonisation and fire safety, then they were taking on "some quite complex procurement and supply chain management risks".
He added: "I think the nature of the sort of long-term spend putting right historic problems probably pushes people a bit more towards long-term, fixed-rate funding and capital markets funding."
Social Housing Finance Conference 2021
Brought to you by Social Housing, the Social Housing Finance Conference is one of the first opportunities of the year for senior leaders in finance, treasury and asset management to convene to discuss the recent Budget, reflect on a financial year like no other, and look ahead to opportunities for the sector to lead the way in post-pandemic economic recovery.
Over three days from 18 May, the conference will deliver high-level keynote sessions, panel discussions and informed debate covering the most important strategic, operational and technical finance issues underpinning the housing business model and the sector's aspirations.