News
17 Nov 2021
by James Twomey
The chief executive and chair of Homes England, Peter Denton and Peter Freeman, said they would like to see local authorities directly building more affordable housing.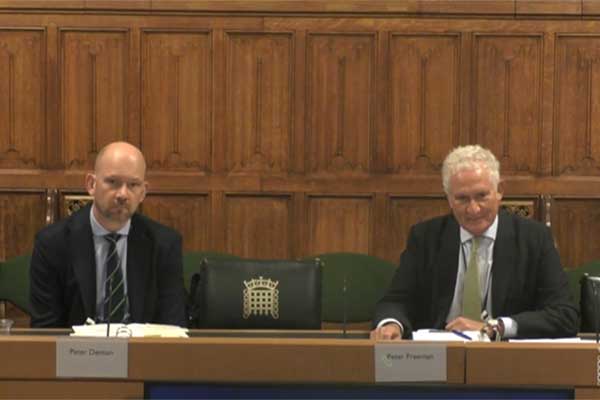 Homes England chief executive Peter Denton (left) and chair Peter Freeman (right) appeared before the HCLG Committee (picture: Parliament TV)
The government agency's senior staff were giving evidence at a Housing, Communities and Local Government (HCLG) Committee hearing this week to provide an update on Homes England's impact on housebuilding efforts across the country.
Speaking on Monday (15 November), the pair covered a range of topics from weaknesses found in the agency's internal audits to the latest round of the Affordable Homes Programme (AHP).
Homes England has 31 strategic partnerships with 35 organisations in the latest AHP, mostly with housing associations, worth £5.2bn. There are no local authorities included in the partnerships.
However, Mr Denton said that Homes England would encourage local authorities to start building more homes.
---
---
Mr Denton told the committee: "I think Peter [Freeman] and I have already indicated that one of the things we would like to focus on more is building on the local centres of excellence that we've created with the local authorities and how we can work over the coming years to develop more land-led skills and experience within local authorities, to see more direct, local authority affordable housing being built."
When questioned by the cross-party committee on how Homes England works with local authorities to deliver more affordable housing, Mr Denton said: "There is a heavy engagement in a kind of soft way between us, typically the local housing associations and the local authorities, on need.
"Some local authorities are very public about what they would like to have, and I think that's taken into account by us and the housing associations; sometimes it needs us to help and work with them to develop."
The committee also touched on different homebuilding schemes in the AHP, including shared ownership and First Homes models, which the Homes England bosses said they would continue to promote.
Mr Denton said: "Of the 90,000 homes that will be built through the Affordable Homes Programme, for £5.2bn, around about half of those are shared ownership.
"When you look at the way the agency is working, through two lenses, one is between Help to Buy and then shared ownership. We are not covering the entire range, but we're certainly covering a broad range of different types of customer who might aspire to have ownership overhead.
"Shared ownership is a very, very strong and good product because it does allow people to have access to a form of ownership that they themselves can choose whether they build up over time. And I think that's something that we want to continue to support."
Mr Freeman expressed his support for the First Homes and Help to Build models.
First Homes offers a 30 per cent discount on market rate sales for first-time buyers who do not earn a combined annual household income of more than £80,000, or £90,000 in Greater London. Details on the Help to Build scheme are expected later this year.
Mr Freeman said: "We are also operating First Homes, which is the new 30 per cent discount at the moment. It's a kind of trial model but it's ready to be rolled out and we're helping stand up Help to Build programmes for people who'd like to own and build their own homes."