News
02 Nov 2021
by James Twomey
Aspire Housing has announced a private placement deal and refinancing package worth £266.5m to help it build 1,400 mixed-tenure homes in the next five years.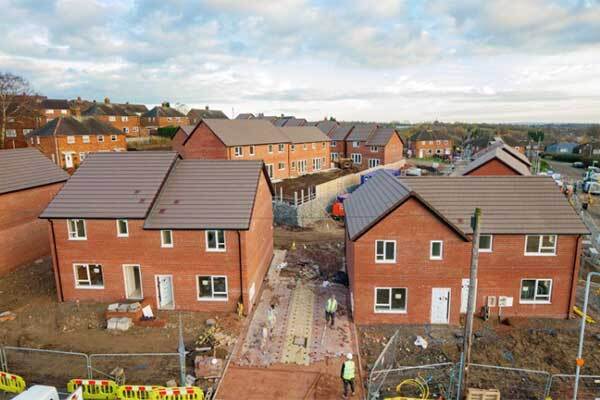 Picture: Aspire development in Newcastle
The Staffordshire and Cheshire-based housing association (HA) said the funding package includes a £145m sustainable private placement with four investors, as well as the renewal of a £96.5m loan facility with Lloyds and a £25m loan facility with Barclays.
NatWest acted as sole agent on the sustainable private placement issuance and Aspire Housing have confirmed that it is a 'use of proceeds' arrangement.
When asked by Social Housing, the HA said the basis points, gilt, coupon percentage and term length of the deal were to remain confidential.
The HA said it had secured the funding "across long-dated maturities and multiple drawdowns" and the overall weighted average cost of capital for the sustainable private placement is below 2.5 per cent, while the deal drew strong levels of interest from investors in the UK and North America.
The private placement forms part of Aspire's sustainability targets, which it says includes provision of new housing, construction of homes at an energy performance certificate (EPC) rating of C or higher and increasing energy efficiency in existing homes.
---
---
The deal enables the HA to invest £207m in its development programme.
Mark Thrasher, executive director of finance at Aspire Housing, said: "Securing this new funding will enable the group to continue to grow through the provision of new housing. But it will also enable us to continue to invest in our existing homes, to re-provide outdated and inefficient homes with new energy-efficient, spacious places to live."
The 9,000-home landlord said it worked with Savills Financial Consultants to secure the refinancing and sustainable private placement funding package.
It is the second time Aspire has worked with Savills Financial Consultants to complete a private placement funding deal. The two organisations first worked together on a £205m package in 2017.
Mike Roche, a director at Savills Financial Consultants, said: "Following our previous work with Aspire in 2017, it was able to match its ambitions to grow its development programme. Investors liked what they saw and were keen to support this new funding package that puts in place the foundations to allow Aspire to meet the goals in its new corporate strategy."
The housing association received legal advice from Anthony Collins Solicitors and Capsticks, while Barclays used Addleshaw Goddard and Lloyds were represented by Pinsent Masons.