Insight
04 Feb 2021
by Gavriel Hollander
With GreenSquare back up to G1 for governance, its merger with Accord is on track to complete this spring – paving the way for growth. Gavriel Hollander reports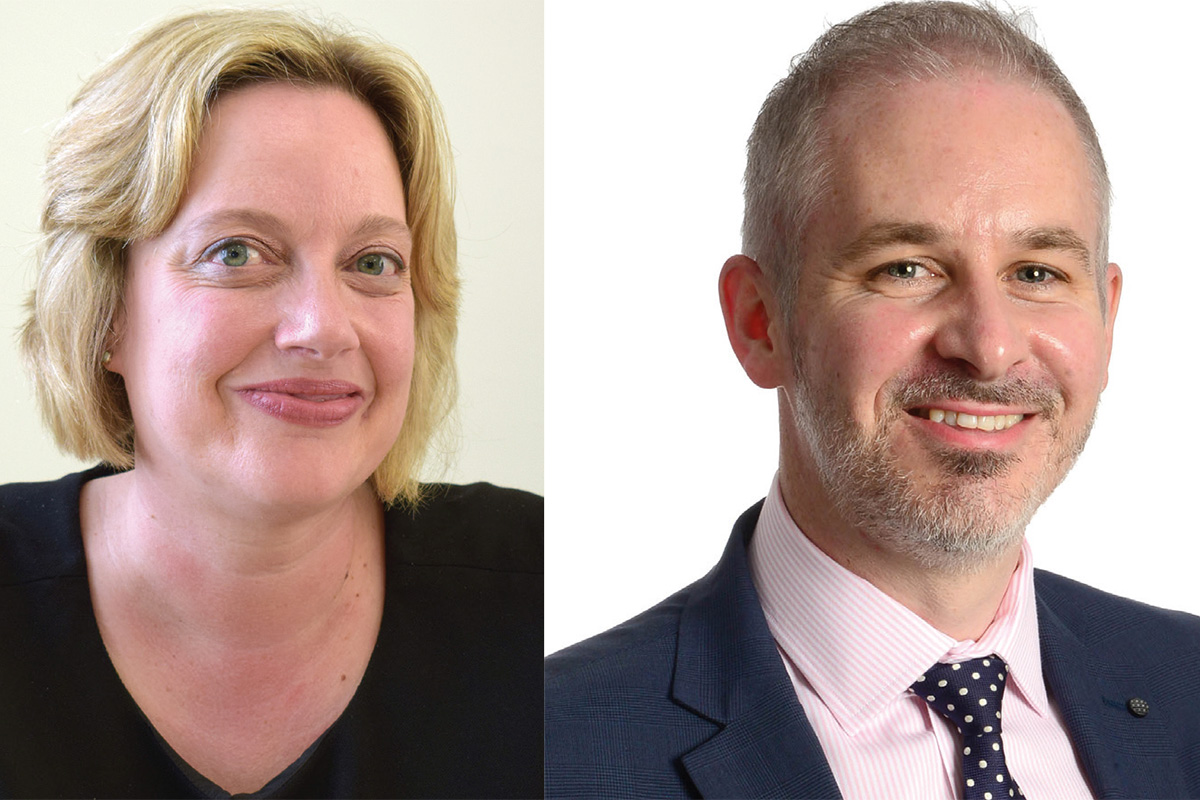 Ruth Cooke will become CEO of the merged association and Stuart Fisher will become CFO
GreenSquare Group and Accord Housing Association will build towards a development programme of 1,000 new homes a year once the merger to create a new 25,000-home organisation goes live in the spring.
In January, the boards of the two associations finalised senior board and executive roles at the new organisation, which has yet to be named, with GreenSquare's current chief executive Ruth Cooke taking the same role at the merged association, Accord's chair Elisabeth Buggins becoming chair, and Accord's executive director of resources Stuart Fisher becoming chief financial officer.
Speaking to Social Housing, Ms Cooke and Mr Fisher describe the deal as "a merger of equals" of two similarly sized associations, but say that the tie-up would allow the new organisation to grow at a faster rate. "The narrative that came from both boards in terms of why we are doing this was that two and two has got to equal five," says Mr Fisher. "We are both medium-sized providers with relatively ambitious programmes, and so we bring those together and we do more on top. So our ambition – market dependent – is to get to 1,000 homes a year of development."
Despite reports that finalising the merger had been delayed by the COVID-19 pandemic, Ms Cooke insists that the target date has not shifted from the end of March 2021, although she says that "quite a lot of the work has been squeezed towards the end of the process".
---
---
"We started the serious discussions in March last year, and I think there was just a really conscious decision, probably for the first six weeks of lockdown, that each organisation absolutely has got to focus on getting its COVID response right," continues Ms Cooke.
"Our primary duty is to our customers to make sure those services stay in place. So we took quite a deliberate step back for those six weeks and said when we've got that sorted, then we can come back and can re-engage. That has almost concertinaed some of the work, but our expectation is we're still looking at the turn of the financial year as a completion date."
"If you don't have absolute control over your data and your set of processes, it doesn't take very much for compliance to go off track"
For GreenSquare, the other major change since merger discussions started just under 12 months ago was a new regulatory judgement in October that saw the association reclaim a G1 rating for governance. A June 2019 regulatory judgement had cited "a clear lack of leadership around health and safety issues" and said that the board had failed to exercise oversight or seek assurance about the effectiveness of controls in operation on health and safety. Ms Cooke, who joined the association just a month before the regulatory judgement, said that working to fix the issues cited by the regulator had been "a huge organisational focus" even before she joined.
"It was probably our number-one priority for easily the first 18 months I was there because when you get a regulatory notice that relates to building safety, that has to be the priority."
Ms Cooke says that much of the work towards regaining a G1 rating "was already in train" when she joined the group.
"It was pretty clear that we had to have an absolute focus on systems and processes that underpin landlord compliance," she explains. "So obviously that means gas safety, fire safety and electrical safety specifically referenced in the regulatory notice. But I also think that it probably highlighted a broader issue – and it's absolutely an issue that will apply to lots of other organisations, which is, if you don't have absolute control over your data and your set of processes, it doesn't take very much for compliance to go off track. And when it goes off track, that then becomes a really serious issue."
She says that merger discussions with Accord started only once GreenSquare "thought we had the building blocks in place" to return to G1. Mr Fisher agrees that the merger would not have been on the cards otherwise. "From day one, the narrative wasn't that of a G2 organisation, it was of an organisation heading back to G1," he says.
On the financing side, discussions with lenders are ongoing. Between the two associations, there are 17 funders, some of which lend to both. This includes a list of banks, institutions and other lenders. Accord has total funding of £600m, including around £150m of institutional debt, while GreenSquare prepared itself for the merger last May through a £540m financial restructure involving eight funders. The funding mix included unsecured credit facilities, an environmental, social and governance loan and an investment from BlackRock. The aim was to unravel previously restrictive arrangements with bank lenders and increase borrowing capacity and liquidity.
GreenSquare is still rated V2 for financial viability, while Accord has maintained a G1/V1 grading. Ms Cooke says the aim is to get back to V1, but it would depend on the level of risk the association is prepared to take, particularly on developing housing for sale, a tenure to which it has previously had a high exposure.
"We don't build for sale for the sake of it, we build for sale because we want to sell properties," she says. "If we think the market is hardening and it's going to be more difficult for us to sell properties, we're not going to get them out of the ground. So you kind of rein it back by default."
Accord has traditionally developed fewer homes for sale, as house prices tend to be lower in the parts of the Midlands where it operates. Mr Fisher believes the merger will allow GreenSquare to expand its sales into Accord's territories, while Accord can grow its care and support business.