News
10 Nov 2021
by James Twomey
Housing secretary Michael Gove has told MPs that he has "sympathy" for housing associations caught between the financial difficulties of addressing fire safety work and building new homes.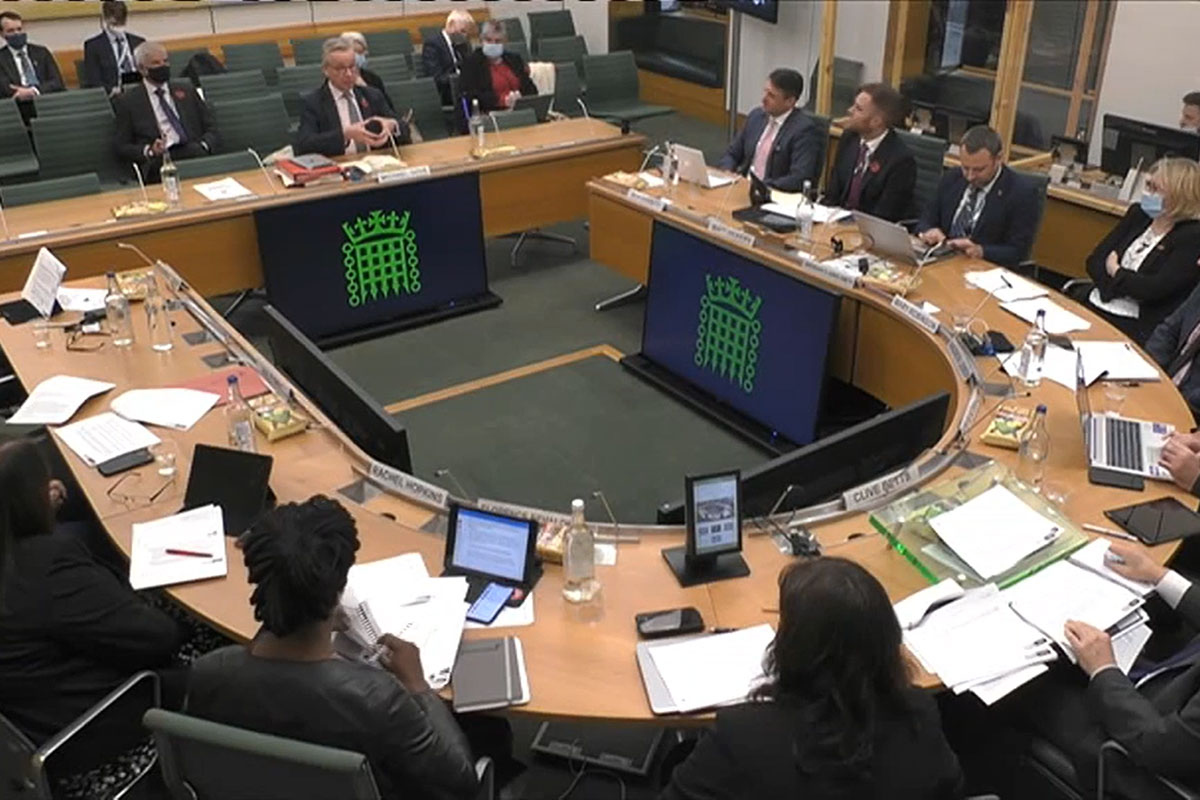 Michael Gove gives evidence at a Housing, Communities and Local Government Select Committee meeting (picture: Parliament TV)
Giving evidence to MPs on the Housing, Communities and Local Government Select Committee, Mr Gove called the predicament facing social landlords a "Sophie's choice".
He said: "I sympathise with housing associations who feel that they are caught in a Sophie's choice between dealing with safety and providing new accommodation. Safety does need to be dealt with but we also need to be clear about how… the money in the Spending Review is designed to do this to work with housing associations in order to increase housing stock."
In last month's Spending Review, chancellor Rishi Sunak highlighted details of the government's latest £11.5bn Affordable Homes Programme, which was revealed in September last year. He also repeated the fact that £5bn is being made available to remove unsafe cladding.
---
---
In response to the Spending Review, the G15 said that its members "urgently need access to an expanded Building Safety Fund on the same terms as private for-profit companies".
And the National Housing Federation has warned that one in 10 affordable homes could be lost because of added costs from fire safety works, without additional funding.
During the two-hour evidence session Mr Gove also said that the government will deliver on its promise to withdraw its 'consolidated advice note', which has meant building owners having to check cladding systems on all buildings, regardless of their height. The advice has led to hundreds of low-rise buildings being deemed unsafe, resulting in mortgage lenders refusing to lend against them.
When asked when the consolidated advice note would be removed, Mr Gove said: "I want to do that before Christmas, because we know that the Building Safety Bill will be in its report stage, so I would like to do it before then."
At the session, Mr Gove was also challenged on the quality of stock in the social housing sector and when the proposals in the Social Housing White Paper would be adopted.
He said details on how the proposals, which came out in November last year, will be acted on are set to be released "as soon as possible".
Mr Gove, who was appointed secretary of state at the newly formed Department for Levelling Up, Housing and Communities in September's reshuffle, added: "The biggest problem in terms of quality is in the private rented sector, not in the social housing sector. But yes, we do need to and there will be more detail shortly about the legislation that we need to bring forward in this area."
He also affirmed his support for social housing and said there is a "need" for all types of tenures.