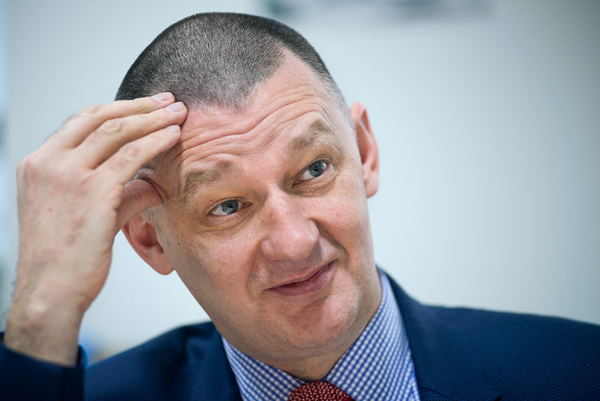 Speaking at the Business Leaders' Summit in London on Tuesday, Mr Walkley made comments about the state of existing stock in some social housing units, in the wake of a series of investigations by ITV News highlighting the poor-quality homes that many social housing tenants reside in.
Mr Walkley was Homes England's boss for four years until January and previously held chief executive roles at Haringey Council and Barnet Council. He is now president of UK strategic advisory at real estate company Avison Young.
Asked about how today's leaders need to respond to current challenges, Mr Walkley said that the housing sector is "going to have to do a lot of learning together".
Mr Walkley said he thinks that a combination of austerity measures from consecutive Conservative governments, and the housing sector's inability to lobby central government for more leverage, had hindered its ability to achieve meaningful change in social housing quantity and quality.
"Motor manufacturers appear to have gotten grants and a giant tax subsidy in order to transfer from diesel to electric cars," he said. "In fact, government is funding a mega battery plan. We're going to have to make the same power transition in housing. But why are we not able to articulate and get that leverage?
"The answer is partly because that sector is incredibly good at getting other parts of the delivery chain to articulate its value as well. Funders, labour movements, local leaders, supply chains. Actually, housing is a far bigger industry, but we don't mobilise in articulating the same way."
A report by the Housing Ombudsman, compiling complaints received between April and June this year, found that 45 per cent of complaints from housing association tenants were related to the condition of the property. For local authority tenants it was 46 per cent.
Europe's largest housing association, Clarion, featured in the ITV investigations into poor social housing conditions at its Eastfields Estate in Merton, and has since apologised to residents, taken action to improve conditions, and published a 'lessons learned' report on what went wrong.
"I watched that TV news coverage of Clarion, and of the damp in the homes, and we all know we've had stock that's like that," Mr Walkley said. "We all know that we've stood and looked at something and thought 'Christ, how have we missed that?'
"I think one of the things that's happened over the past two decades is we've been asked to do some really difficult and horrible things as a result of austerity. Our careers have been marked by doing things we wouldn't like to do and it's created I suspect quite a defensive mindset, that's almost instinctive because we're having to justify things that we don't really like, and we weren't really happy doing.
"We've just got to acknowledge we're going to get a bunch of stuff wrong because the right answer isn't immediately evident on issues from climate change to inclusivity."
Speaking elsewhere at the event, Alison Inman, a former president of the Chartered Institute of Housing, echoed Mr Walkley's concerns around austerity and the importance of tenants' presence on boards to mitigate poor housing conditions.