News
23 Feb 2021
by James Wilmore
For-profit registered providers, developers and councils will be able to bid for funding under Homes England's strategic partnership model for the first time from next month.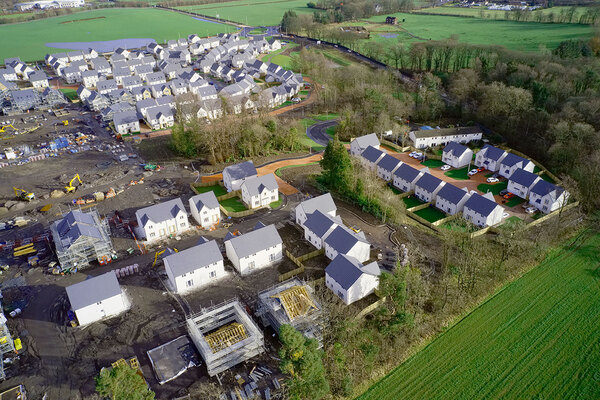 Picture: Getty
Under the new system, the government's housing accelerator said it wants "ambitious" organisations to become strategic partners as it is aware of "more appetite, experience and capacity across the sector to deliver affordable housing".
While for-profit registered providers were able to access funding through the previous Affordable Homes Programme (AHP), this will be the first time they are eligible to access it as strategic partners.
It has not been decided yet how much money will be allocated for the revamped scheme, Social Housing understands.
However, the funds will come out of the nearly £7.5bn pot that Homes England is administering under the government's new AHP.
The new £12.2bn AHP was announced in the government's pre-pandemic Budget last March, and later confirmed in June as the prime minister set out its plans to rebuild the economy after COVID-19.
At the time, the Ministry of Housing, Communities and Local Government confirmed to Social Housing that the amount comprised the £2bn of strategic partnership funding first set out in 2018, to cover the period up until 2028/29, along with £700m being allocated as part of the current 2016 to 2022 AHP, and finally £9.5bn of new AHP funding covering the period 2021/22 to 2025/26.
Within this new programme, £4bn was provided to the Greater London Authority, which allocates grant in the capital.
---
---
Under Homes England's strategic partnership system, successful bidders enter into a multi-year agreement to develop affordable housing, rather than having to apply on a scheme-by-scheme basis.
Figures from last year show that almost all of the previous £2bn allocation – £1.8bn – had been allocated at the end of September 2019, suggesting that around £5.7bn remains available to Homes England through the new AHP. This will be distributed via both its strategic partnerships programme and through its 'continuous market engagement' approach.
A bidding round is expected to launch next month for the revised partnerships scheme and will be open for six weeks, Homes England said.
Bidders will also be expected to deliver at least a quarter of homes through modern methods of construction, reflecting a stipulation in the AHP.
The new system offers four types of strategic partnership:
For-profit registered providers and developers must deliver "at least" 1,500 grant-funded homes and have a grant application of less than £150m. All completions must be by March 2026 and all grant drawn down by that date
Local authorities must also commit to delivering "at least" 1,500 homes, complete schemes by March 2028 and have an ask of less than £150m
Not-for-profit registered providers must deliver at least 1,500 grant-funded affordable homes, with each partner "committing to a minimum of 500 homes". Associations must start on site by March 2026 and complete a project by March 2028. Only applications less than £250m will be accepted
Current strategic partners can extend their proposal for another year but must deliver "at least 4,000 grant-funded homes – or at least 1,500 for each partner in a joint strategic partnership"
Homes England said grant would be available for five different tenures: affordable rent; social rent; shared ownership (including older person shared ownership); and supported housing for rent.
Homes England's strategic partnership model, launched in 2018, has previously been available to housing associations only.
Since its introduction in 2018, £1.8bn has been allocated in grant to 27 housing associations leading to around 40,000 new affordable homes, according to Homes England.
When former prime minister Theresa May launched the model, £2bn was announced for the programme.
Homes England's outgoing chief executive Nick Walkley revealed last November that the agency was considering expanding the scope of its strategic partnerships programme to local authorities and the private sector.