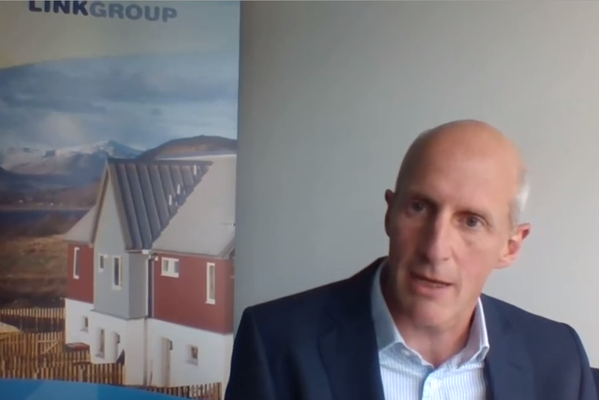 Speaking at the Social Housing Finance Conference on Thursday (20 May), Jon Turner, chief executive of 8,300-home Scottish landlord Link Group, said: "I don't think the discounts are even close to being enough to recognise the power of what we're doing. The reporting requirements bring expense; if you're looking at use of proceeds funding, it brings complexity to your systems and reporting. And I don't think the discounts are big enough to offset these costs at the moment."
Mr Turner said that housing associations had delivered a "powerful phase one" in their environmental, social and governance (ESG) journey with regard to implementing reporting frameworks.
"I passionately believe that's the right phase one, but I think at the moment you can get the same money from the same funders for the same corporate purposes, but it costs more – and so this gap we need to close now.
"I think phase two is really where the opportunity is, which is to say let's take the power of the framework and the infrastructure that we have and the fact that the investors are on the journey with us – and let's deliver proper financial value for money and drive it forward that way."
He added: "I think it can be done, but it's going to take a system in terms of how financial institutions look at sustainability to be able to deliver the benefits to us. And we will absolutely need [it]. If you look at some of the financial challenges we are facing into – zero carbon costs, fire safety costs – these are all costs without associated revenue."
Mr Turner said that it is a matter of not only the basis points (bps) discounts on offer but also the whole cost of funding, including the price of providing security and the related costs of legal fees and regular valuations.
"All of this [is] for a security pool that a bank would never want to step into and take over. Why? Because the way that banks are structured, they have to meet capital adequacy requirements and that's a core part of pricing."
He added: "It's areas like this where, if we can get the frameworks to engage at a very senior, high level with the likes of the banking regulators to change some of these fundamental metrics, you can start to change the pricing without the banks having to take capital hits on their returns."
Speaking on the same panel, Marcos Navarro, director and sustainability lead at NatWest, said that the typical margin discount he has been seeing for sustainability-linked loans in social housing is around 2.5bps to 5bps.
For NatWest, he said, this represent "an incentive for organisations that are really going above and beyond", as a discount on top of the "best possible base margin [given] to any organisation as a starting point".
Mr Navarro said that while borrowers in other sectors, such as private developers, might receive larger discounts in terms of basis points, it is important to remember that housing associations start from a better position on pricing.
"The sector has always benefited from its social credentials, so the margin that a housing association is able to achieve versus another private developer is significantly lower based on its credentials already."
On the broader costs of funding, he said future changes – alongside steps including NatWest's recent 'social bond' Euro issuance, which saw it explicitly link to its affordable homes debt portfolio – could help it to pass on reduced cost of funding in future.
"In terms of the way banks are funded, at the moment there isn't necessarily capital relief that we can pass on. That being said, there are some changes coming down from capital treatments in regards to infrastructure [and] it will be interesting to see how we can pass that benefit on to organisations."
Brendan Sarsfield, incoming chair of the Sustainability Reporting Standard for Social Housing, and outgoing chief executive of London-based association Peabody, said it is likely that government will start either taxing banks on certain types of investment or giving tax rebates in future.
"I think we're going to see a lot more government intervention in this area, which will shape the kind of discounts we get," he said.
Speaking earlier at the conference, on a session entitled 'Talking to your investors' on 19 May, Eugenia Korobova, debt origination manager at the Pension Insurance Corporation (PIC), said that because of the way the funder is regulated, ESG is unlikely to have a pricing impact on new issuance, although it is an important part of credit analysis.
"It wouldn't necessarily impact on the price from our perspective, because it's difficult for us to give the benefit for ESG just based on how our capital model works today and how we are regulated. But if that were to change in future then absolutely we could take that into account.
"In terms of the credit analysis, I think that social housing in general already has very strong ESG credentials, so I think it's more of a way of formalising what the sector has already been doing in the past and [it's] a way of taking that into consideration in our credit analysis."